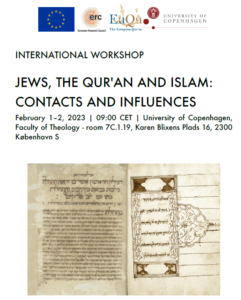 I am very happy to announce the forthcoming international workshop, 'Jews, the Qur'an and Islam: Contacts and Influences' which will take place on 1-2 February 2023 in Copenhagen.
The workshop, which I am organising as part of the EuQu project, aims to explore how Jews approached the Qur'an and Islam from the Middle Age to the early modern period both in the lands of Islam and in Europe. Through various sources and textual genres ranging from polemics, exegesis to Qur'anic translations, we will discuss how Islam was perceived, how the Qur'an was used and how the Jews in some contexts were influenced by the material, textual and theological aspects of the Islamic tradition.
The event will include a keynote lecture by Susannah Heschel (Dartmouth College) along with a public lecture by Joanna Weinberg (Oxford).
Online participation is possible via Zoom. You can learn more about these events here or contact me: naima.afif@teol.ku.dk