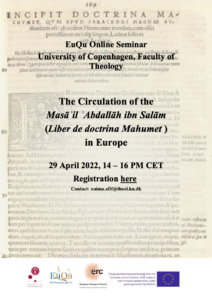 I am pleased to announce the upcoming online seminar "The Circulation of the Masāʾil ʿAbdallāh ibn Salām (Liber de doctrina Mahumet) in Europe".
This event, which I am organising in the frame of the EuQu Project at the Faculty of Theology of the  University of Copenhagen, will be held on the 29 April 2022, 14 – 16 PM CET.
The Masāʾil ʿAbdallāh ibn Salām (Abdallāh ibn Salām's Questions) is a fictional dialogue between a learned Jew who converted to Islam and the prophet Muḥammad. Originally written in Arabic, it enjoyed a great popularity in the West. The text was translated into Latin as part of the Corpus Toletanum in the 12th century under the title Liber de doctrina Mahumet and then served as the basis of several translations in European vernaculars. In this online seminar we will discuss the transfer and wide European reception of this work, and assess how it influenced European knowledge of Muḥammad and Islam over centuries.
Speakers:
·       Ulisse Cecini, "The complex textual tradition of the Masāʾil ʿAbdallāh ibn Salām between Arabic and Latin"
·       Luisa Simonutti, "In quest of toleration. The Questions of Abdalla among Locke's papers"
·       Naima Afif, "The Wisdom of Mehmet: a Hebrew version of the Dottrina di Macometto"
Register here: https://ucph-ku.zoom.us/meeting/register/u5cocO-rrzMrGtKHuKpbX0dPob-gCfX2lYrf
For further information, please contact me: naima.afif@teol.ku.dk